2017 Acura NSX Lease Benefits Near Chevy Chase, VA
Discover the Benefits to Leasing a 2017 NSX

The 2017 Acura NSX is coming soon to the Pohanka Acura showroom, so now is the time to decide if buying or leasing is right for you. There are many 2017 Acura NSX lease benefits near Chevy Chase, VA, to consider in making this tough decision. Either way, you know you're driving home in a powerful and stylish icon.
There are many benefits in leasing the 2017 Acura NSX. For starters, your monthly payment will be lower than it would be if you bought the NSX at its purchase price, because you only pay the depreciation value of the vehicle. This is beneficial when you have a set budget you need to stay within for each month. Leasing also lets you drive and afford a vehicle you may not have been able to if you were to purchase it outright. Plus, it has all the features and luxuries you desire most in a new car.
Another benefit of leasing is you don't get locked into a high-price, long-term financial commitment. You never know when your needs or your family dynamic will change, and maybe a 2-seater sports car won't make the most sense for you three years down the line. But when you lease, you don't have the stress of having to trade it in once your needs do change. When your lease is up, you can either return the 2017 NSX back to us, lease a different Acura model, or lease the updated model year of the NSX. If your needs haven't changed, and you've fallen in love with the NSX and can't bear to turn in your keys, you can purchase your 2017 NSX at the depreciated price and continue enjoying all it has to offer.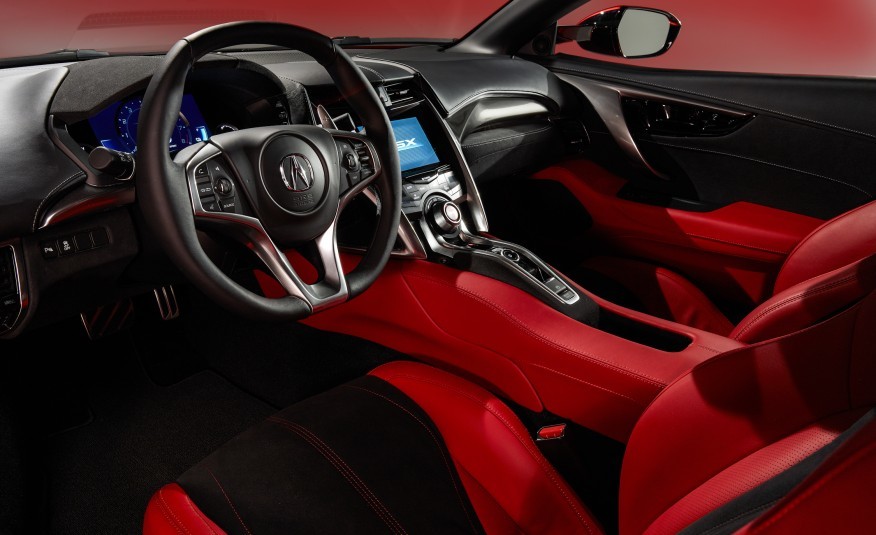 One of the features the 2017 Acura NSX has to offer is its powerful engine. This 75-degree, dry-sump, V6 turbocharged engine is supplemented by three electric motors, and is predicted to get over 550 horsepower. The NSX also has Sport Hybrid Super-Handling All-Wheel Drive, which sends extra torque to the wheels that need it most, so you can exhibit the perfect line through every turn. Like the Acura TLX, the NSX has Acura's Integrated Dynamics System, which aligns powertrain and chassis responses, along with engine sound, using preset levels. The settings are Quiet, which relies on battery power at speeds up to 50 MPH, Sport, Sport+, and Track to unlock the full spectrum of its performance capabilities.
There are also a variety of luxurious features on the inside of this 2-seater. The masterfully-crafted, sporty steering wheel puts virtually every control right at your fingertips, including the paddle shifters. Behind the wheel is the 3-meter instrument cluster, which features a color TFT center gauge with reconfigurable graphics. The redesigned center console not only is home to the push-to-start ignition, but also the Integrated Dynamics System, and the Electric Gear Selector, which replaces the shift knob as it engages the transmission with one intuitive touch.
If 2017 Acura NSX lease benefits near Chevy Chase, VA, are something you'd like more information about, come into Pohanka Acura today. We are open 7-days a week, and are conveniently located a few miles south of Dulles International Airport in Chantilly, VA.